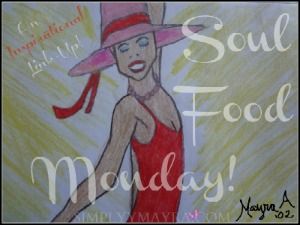 I've been enjoying SimplyMayra's Soul Food Mondays series for quite awhile now, and I was extremely excited to see that she's decided to make it into a link-up! Being as she is my Little Blogger and all, how could I not hop in and participate?
I'm a bit of an inspirational quote junkie. If you go over to my profile and look at all of my different boards, you'll notice that most of them have under 20 things and then my Quotes & Things board has 152. Give me a quote displayed in an artistic way and I'm total jelly… so I started combing it for post inspiration and I found this one:
This immediately spoke to me because before I noticed Mayra's link-up I had been planning to post something that was tangentially related to something that I've been thinking about for the last week… That is, the practice of sharing other people's blog posts.
In case someone hadn't noticed… I recently changed up the social media buttons (which you can find at the bottom of my blog posts) because I didn't like how they were displayed before because they sorta just blended in with everything else visually and I figured that's sort of why no one was using them. Either that or my blog posts really suck and no one wants to share them because they're embarrassed for me, but I really don't think that was the case…
Somewhere in this process of revamping this little section of my site I realized that not only was no one using them on my site… but I wasn't using them on anyone else's either. I don't know why, but I had myself convinced that those buttons weren't for me to use… Those were for the people who don't know how to copy and paste and write a proper tweet, which I know is TOTALLY dumb, but I think think these types of things on a fairly regular basis. I also I don't know how many times in a day I'd be reading a blog post that someone else wrote and be all like, "Hell yeah! I'm totally digging this! Why isn't everyone reading this blog post?" and then just click on off the page after I'd finished reading or left a comment without sharing that I'd enjoyed that post with everyone else.
So, at the beginning of last week I made a resolution for myself… I resolved that whenever I enjoyed somebody's blog post a lot, I'd share it on my social networking pages. It's not a huge act of kindness towards my fellow bloggers, but I know I appreciate it when others share the hard work that I've done here. I'm not admitting that I do this to boast, but rather to encourage others to do the same thing… I think sometimes it's easy to just click on by when you're done with a post and totally forget that you could make someone's day by just passing along a URL to their words to all of your friends.
Of course, sharing someone's blog post isn't the only way that one can commit to performing random acts of kindness… It just happened to be the way that I find that I'm doing it most often these days seeing as I've been hunched over the computer not leaving the house for weeks on end.
What random acts of kindness have been committed for you recently? What could you do more of to commit random acts of kindness for others?